"How To Get TEN TIMES The Returns From Your Rental Properties"
…And Completely SYSTEMIZE Your Wealth Building!
WARNING: The 5 minutes of attention span required to read and understand this document will change the course of your financial future…
Are you wondering where to find the best deals?  
And with your current buying power, do you wonder how you will be able to generate real wealth?...
Yeah, that kind of wealth…
The kind of wealth that means you'll never have to worry again.
Contrary to nearly every guru out there, it's not found in a Cap Rate, or some special one-off strategy…
Or even in a "hidden little corner" of the internet.
It's actually found in the most obvious place.
More on that in a minute…
And - ironically - while you're actually reading this online…
Right now, now matter how deep you are into the game, the internet has likely hurt your investing game.
If you're like most investors that we've met, your strategy for building wealth looks something like this…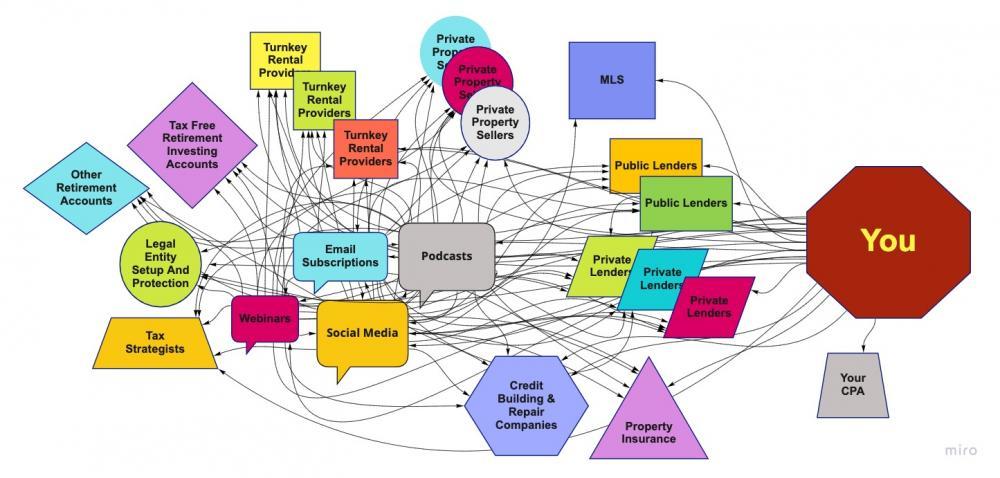 There's very little that is systemized.
Moreover, it's very hard to stay focused, and stick to a plan.
Yes, the internet has brought the entire world to our fingertips.
But, too much of a good thing is really bad for building wealth.
It's become a multitude of distractions…
Gurus, financial advisors, podcasters, you-tubers, syndicators, land resellers, turnkey providers, educators, hard money lenders, online marketplaces, self-storage experts, and a host of other one-trick ponies.
And while many of them have some value, none of them can provide you with a complete ecosystem in which to thrive.
And with so many of them,
one screaming louder than the other,
Ultimately -
They become one giant distraction, rather than a system.
As such,
They are keeping you from living the full life that you want and deserve…
For yourself, and your loved ones.
And yet, you soldier on…
Spending hours in front of the screen -
Looking for the best rates of return, in the best neighborhoods, with the best interest rates…
Not knowing how easy things can be,
And how much money you're leaving on the table.
You understand that owning rental properties can give you some great tax write offs,
And while that's true, if you're like most investors, you're handing your files over to your CPA at the end of the year…
Hoping for the best.
And by that time…
It's too late.
The only thing your CPA can do for you at that point is record history.
They will simply be telling the IRS what's already happened.
But…
What if building wealth was actually…
Easy?
What if the "secret" wasn't really a secret at all?
Actually, the answer lies within you.
You see, after investing in hundreds of properties, and working with hundreds of investors…
We've learned that there is one lever that can move the needle for you more than anything else.
More importantly, this lever is specific to you…
It has nothing to do with any other investor.
It in its simplest term,
It's your tax position.
Now, to be clear…
We're not talking about your actual federal tax rate (although that's important)
We're talking about you having an understanding of all of the ways you can pay less taxes,
Taking into account -
Your income

Your credit score

Your age

Your assets

Your current debts

Your retirement account

The size of your family

Your business structure

Even the way you currently generate income.
You see, it's all about you.
But understanding all of the nuances is not easy.
And, we're not going to fill you full of BS and tell you that we're experts…
We're not.
We're investors…
Just. Like. You.
The main reason for our success has been in working with the best experts.
It's their job to understand the nuances of the law.
And through much trial and error, we've learned to do everything they say.
For us, and for investors who've been on this journey with us, this one thing has allowed us all to make massive shifts in the way we generate wealth.
And, if you can eliminate the distractions, this will work for you too.
In fact, we're so convinced that it will work for you, that we'll cover your "Initiation fee" into our very private world…
A cooperative effort of relationships and experts that have taken us years to develop.
The process is actually much simpler than you could imagine…
Anyone can do it.
Every investor, from the newbie to the most sophisticated, should be doing it,
But very few do.  
Sadly, most investors are too distracted by all the noise around them to actually pay attention, and follow instructions.
Of course, their results reflect that too.
But if you've read this far, you can rise above the noise…
Maybe you are even starting to see a possibility for yourself.  
Imagine…
Having an easy to follow, sequential process…
One.
Step.
At.
A.
Time.
There are a few components to each step, but it's very straightforward.  There are only 3 steps…
Build Your Foundation

Prepare

Execute
Yes, it is that simple.
Here's how it works…
Step 1 - Build Your Foundation:
You'll watch a series of

very specific educational videos

, just to understand basic concepts.  Total running time, about 2 hours.

From there, you'll have a

 "GO Call"

 (Get Organized) with our Investor Relations Manager.  Leading up to this call, you'll gather all of your financial data in one place, so that you, and the experts who will be helping you, can get a good baseline.  

You'll also get a preliminary

custom report

from our Tax experts.  They use a very unique piece of software.  Your most recent tax return is fed into the computer, and the AI spits out the main opportunities that you should focus on to reduce your tax burden.

Even better, you'll have a

call with a Certified Tax Strategist

 to go over the results.  

You'll also have a call with our Credit team.  You'll get an

analysis of your current debt situation

, and gain more insights into ways that you can use leverage in a much more efficient manner.  
If you're staying focused, it should not take any longer than 2-4 weeks to Build Your Foundation.
Step 2 - Prepare:
Now that your foundation is in place, it's time to Prepare for your wealth building.   There are only 3 things to do:
Hire your certified tax strategist.

  Yes, this costs money.  In all cases, the money you spend will more than pay for itself in

massive tax savings.  

Before you commit, you'll have a very good idea of how much you'll benefit financially from this process.

Set up your proper legal structures.

  If you're not already structured correctly, you'll hire one of our legal experts to get things set up for you.  Again, the cost of this will more than pay for itself.

Get pre-approved

 with the correct type of lender for your situation.  There are a number of different lenders in our network.  And it is likely that there is more than one that will fit your situation perfectly. This will be obvious after building your Foundation.
Depending on your situation, this phase should take no more than 30 days.
Step 3 - Execute:
This is where things get super exciting, because you are now "locked and loaded."  You have everything you need to systemize your wealth.  

In this phase, our team will help you develop a game plan for investing, based on your own personal preferences and risk tolerance.  This is

your plan,

 not anybody else's.  

Costs and membership fees will vary based on which experts you'll be using, and the level of personalization you want…it's all in your control.
And the best part?
All services are provided by the best team of experts at building wealth in the country.
Now your focused path will look like this…

The professionals in our network are not  gurus.  They don't have big social media followings.  They are too busy making money for their clients.  
Their money is made by making people rich…
People like us.
People like you.
Consider this group your very own wealth ecosystem.
As you can imagine, the cost of putting together just the Foundational module is a few thousand dollars…
As it includes training videos, customized software, and three highly trained experts to guide you through the process.
However, we have many testimonials and proof that this is the best place to start for all investors,  whether you're just getting started, or have a large portfolio.
And to be truthful, we're going to be a little selfish here…
We'd much prefer working with investors that are focused, and who have a plan.
Yes, we want you to get results.
We are so certain that you will benefit from doing this, that we're going to make it ridiculously easy for you.
Here's what we're going to do for you…
Lower the cost of entry

Give you a scholarship
Your investment to go through the Foundational Module is $1,250.  
Yep, that's it.  
Now if $1,250 is too much for you to accelerate and systemize your financial independence, then please…
Read no further.  
There's no point in even talking about scholarships.
But…
If you do recognize the value of what we're offering, then here's what you need to know…
Once you've Built Your Foundation, you'll receive a Certificate Of Completion.
We're so confident that this will help you, that…
We're willing to pay for you to Build Your Foundation.
All you have to do is present your Certificate of Completion when you purchase your first rental property from us,
And we'll reduce the price of that property by $1,250.  
There you go…
You're welcome.
So, if you're ready to block out the distractions, and fast track your success,
You'll speak with Nicole, who heads up Investor Relations.  
She and her husband are investors themselves, and have been through our program.
She's a wealth of information, and can attest first-hand, as to what this has done for her family.
She can answer any final questions, send you an enrollment form, and help get you started.
It's time for you to focus…
Forget about the news, forget social media, forget about viruses, wars, the economy, and everything else.  
You want to know how to navigate through this difficult time in world history?
Simple.
Build generational wealth. 
There is no greater sense of accomplishment.
There is no greater sense of freedom.
We receive calls daily, from investors all over the country, all looking for "deals."
Right now, you have an opportunity to learn how to make 10 times the returns that these people are making…
By working smarter, not harder.
You have the opportunity to be part of a select few individuals that are truly part of our inner circle…
People who we respect,
People we are happy to serve.
We look forward to working with you!
To your success,
Shecky & Jack